The first mention of a church in Corstorphine is in a charter of 1228, when King David attached the Crostorfyn church to Holyrood Abbey.
In 1429 the Collegiate Church of St John the Baptist was founded but after the Reformation Mass was forbidden.
It is believed that the first post- Reformation Mass said in Corstorphine was in a barn of a farm between Maybury and Drumbrae; it was thought that Mass in the district was said in secret during the dark years of the Penal Times.
When the Hierarchy was restored to Scotland in 1878 parishes in Edinburgh gradually spread out from St Mary's Cathedral.
One of these, St Cuthbert's, opened in 1890 and the district of Corstorphine was included in the parish. However, it was not until 1925 that a regular Mass was held in the Public Hall in Corstorphine, served from St Cuthbert's, which was then in the care of Canon John Forsyth and Fr. Kieran Joyce.
In 1926 Catholics in Corstorphine gathered for a regular Sunday Mass in a small wooden hut in Kaimes Road.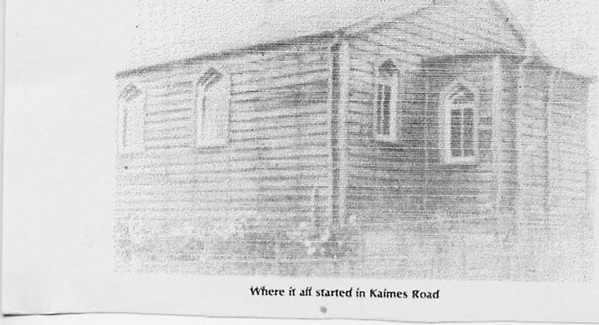 Kaimes Road Wooden Hut
After the change in parish boundaries in 1933, the charge of Corstorphine was transferred to St Andrew's, Ravelston, where the growing numbers necessitated two Sunday Masses and the activities of the parish grew and flourished. How ironic that the two parishes were again united in that we shared the same parish priest, Fr. Michael Regan.
In 1938 the hut in Kaimes Road became too small for the needs of the rapidly growing number of Catholics in Corstorphine and a church hall was set up in St Ninian's Road [ previously occupied by Corstorphine Jail, evidenced by its 2 ft. thick walls!], adjacent to the present Presbytery, with sufficient ground available for the eventual building of a permanent church. Later that year Corstorphine was declared a parish in its own right and the first Parish Priest, Fr. William McLelland was appointed.
There was an immediate increase in the number of services including a Mass at the old Turnhouse Aerodrome and the care of patients in hospital included the Royal Infirmary Convalescent Home at Beechmount, Corstorphine Hospital and Gogarburn Mental Hospital.
Because Fr. McLelland had been appointed Inspector of Religious Education in Schools, he required the assistance of a curate and the first of these was Fr. Daniel Boyle, B.A. and new organisations, the Children of Mary, the Union of Catholic Mothers, Cubs, Scouts, Brownies and Guides were added to the activities held in the parish.
In 1947 Fr. Boyle was replaced by Fr. Peter Gallacher, and 4 years later he was replaced by Fr. Nicholas Torsney, whose death as a young priest deeply saddened the parish. By 1958 the population had increased to 810 and Fr. Thomas Engelen was appointed curate and he in turn was succeeded by Fr. Edward McGee and then by Fr. James Nicholson, who, when the population rose to 1200, helped with the great drive to raise funds for the building of the new church.
The foundation stone was laid with great rejoicing among the parishioners, now numbering 1980, by Archbishop, later Cardinal, Gordon Joseph Gray in 1963.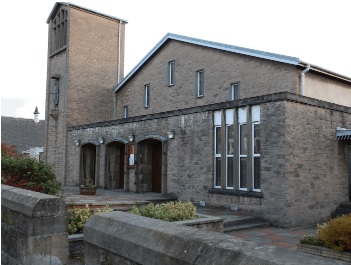 The present church of St John the Baptist
The changes gradually introduced as the result of the Second Vatican Council were in process of transforming many aspects of Catholic life in Corstorphine and considerable progress in conforming to the Vatican II directives had been made when Canon McLelland [ a title given in appreciation of his valuable services to the Church in the Archdiocese of St Andrews and Edinburgh, both as Inspector of Religious Education and for his wonderful contribution to the musical life and Liturgy of the Archdiocese ] became seriously ill and on 2nd January 1972 he was called to the Master he had served so faithfully.
He was succeeded by Fr. Francis Holden, later also a Canon of the Cathedral Chapter, a quiet Englishman with contrasting qualities and talents to his predecessor. These he used well to develop the increasing role of the laity in ministry in the Church, especially teams of Readers, Eucharistic Ministers and Ministers to the sick.
He encouraged ecumenical and community relations throughout Corstorphine and extended a fraternal welcome to those of other denominations, particularly with our neighbours "over the wall", St. Ninian's. After his retiral he was succeeded in 1991 by Fr. Charles Barclay who was very successful in encouraging his parishioners to take ownership of the decision- making processes that sustain and nourish parish life. He was trained to serve in a pre-Vatican II Church but his thirst for innovation enabled him to take all the changes in the Catholic Church on board and he tried to implement them in his love for theology and liturgy and in his creation of a quiet space, open to all, in the Oratory he established with the very hard work of parishioners. He was proud to be involved in the Ecumenical work of the churches in Corstorphine and to be a chaplain to Queen Margaret University College and was a generous host to many students whom he invited regularly to his home for supper.
One of his favourite phrases was "constant change is here to stay" and he was never happier than when he introduced innovations which he felt enhanced the Liturgy or when he shared in the work of bringing people of different denominations together in work and praise.
When he died in 2001 after a short severe illness, he left behind a sorrowing parish and community but a wonderful legacy of having empowered the laity to be generous in accepting change and giving parishioners new roles in both liturgical and pastoral service, always encouraging individuals not to be afraid of failure and to try to continually develop their own faith formation through prayer and attendance at courses.
With the shortage of priests beginning to affect our Archdiocese at that time, the parishioners of St John the Baptist were surprised and delighted to be told within a very few weeks that our new parish priest was to be Fr. Michael Regan who brought his many talents and devotion to Liturgy to continue and affirm the pastoral life of the Catholic Church in Corstorphine.
In spite of his having increasing responsibilities in our Archdiocese, and now being Parish Priest of St Kentigern, Barnton; St Andrew, Ravelston; Our Lady, Currie; and St Mary, Ratho, he, along with his curate, the newly ordained Fr Michael John Galbraith who quickly re-invigorated the social and spiritual life of the children in the parishes, amazingly continued to find time for the pastoral needs of, and social engagement with, the people of St John the Baptist and other denominations in the community.
After 7 years with St John the Baptist and his other parishes Fr Regan. who is now promoted to Monsignor, was moved to be Administrator of our Archdiocesan Cathedral, St Mary's, and Fr Michael John Galbraith was appointed to be Parish Priest of 3 parishes in the Scottish Borders. We wish them a long and happy ministry in their appointments.
We were very happy to receive the news that our new Parish Priest was to be Fr George Suszko SAC, taking up his appointment with his curate, Fr Marcin Motyka SAC, in September 2008 and having responsibility for St Kentigern, Barnton and St Andrew, Ravelston, After one year Fr Marcin was moved to Broxburn and Fr Janusz Wilczynski SAC became our curate for one year, after which he and Fr Marcin changed places.
Our Polish priests have certainly brought a refreshing new dimension to our life in the parishes and we are grateful for the holy and caring attention to the pastoral needs of, and social engagement with, the people of St John the Baptist and other denominations in the community. May they and our beautiful church building long remain in Corstorphine amid the constant change in our lives.
Margot Donoghue
.
Ss John the Baptist and Kentigern is a Parish of the Archdiocese of St Andrews and Edinburgh, registered charity No. SCO08540